Castor seed price has increased due to increase in demand and short supply. The supply of castor seed  has declined in the past one week. In Gujarat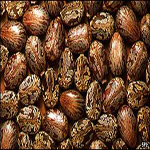 , castor seeds were priced at Rs. 795-805 per 20 kg. In Saurashtra, it was priced at Rs. 775-785 per 20 kg.
On the NCDEX and RCX, the castor seed futures declined while there was an increase in the castor spot prices on RCX.