Researchers from India performed an experiment to study interfacial tension and contact angle of synthesized surfactant and polymeric from castor oil. The polymeric surfactant was synthesized from pre-synthesized sodium methyl ester sulfonate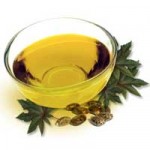 (surfactant) and acrylamide for application in chemical enhanced oil recovery.
The synthesized surfactant and polymeric surfactant were used to measure interfacial tension between their aqueous phase and crude oil phase. Contact angles of solid-crude oil-surfactant interface were also measured. Results showed that interfacial tension was lower which is effective for oil recovery.