National Green Tribunal has ordered that companies using castor plants for commercial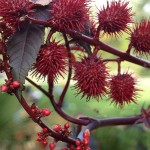 purposes will have to share monetary benefits with local communities.
According to the rules manufacturers, whose turnover is upto Rs. 1 crore will have to pay 0.1% of it to Maharashtra State Biodiversity Board, while those having a turnover between Rs. 1 crore and Rs. 3 crore and a turnover above Rs. 3 crore will have to pay 0.2% and 0.5% respectively.