Scientists from India conducted an experiment to prepare castor oil epoxide using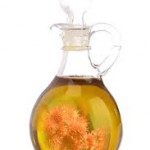 heterogeneous acidic ion-exchange resin catalyst (IR-120) for biolubricant application. Epoxidation reaction was carried out at 60°C using IR-120 as a catalyst, acetic acid as an oxygen carrier and hydrogen peroxide as an oxygen donor.
Characterization analysis showed that castor oil epoxide could be used as a potential biolubricant basestock in hydraulic lubricant application.