A sealant is an elastomeric material that allows for 25% to 50% movement. They are used to level, fill gaps, seal holes and provide bonding and protection. Sealants are made by using either silicone or polyurethane.
Polyurethane sealants are formed by reacting an isocyanate component with amines, polyols or other active hydrogen compounds. Some polyurethane sealants are flame retardant where flame retardants such as ammonium polyphosphate are used along with the polymers to obtain the desired character. So far, only specialty polyols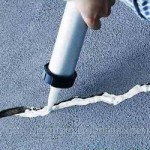 like polycarbonate polyols, polycaprolactone polyols, polybutadiene polyols, and polysulfide polyols have been used to make polyurethane sealants.
Now, Chinese researchers have developed a novel ricinoleic acid based phosphorus and nitrogen-containing flame retardant polyols (FRPE) for polyurethane sealants. The flame retardant polyols were characterized by different characterization techniques.
Flame retardant polyurethane sealants (FR-PUS) were prepared by curing flame retardant polyols with methylene diphenyl diisocyanate (MDI-50). The flame retardant properties of the polyurethane sealants were investigated using limiting oxygen index (LOI), cone calorimeter testing (CCT) and thermogravimetric analysis (TGA).
Results showed that flame retardant polyols could enhance the thermal stability and flame retardancy of polyurethane sealants without adding any other flame retardant.
Now, industries manufacturing polyurethane sealants could produce them in a renewable way which will be environmental friendly.