With castor contracts being suspended by NCDEX from January 27, daily volumes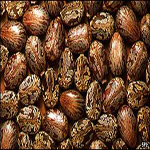 of the commodity have moved up sharply on the regional Rajkot Commodity Exchange. The volumes have increased from 920 tonnes to 5310 tonnes in two weeks.
There are 101 registered members in RCX but only 12 are active. Activity of non-members has increased in recent times which also reflects on the increased volumes.