Recent study has found a new source of biodiesel from castor oil which has less viscosity than the original castor oil.
Castor oil cannot be used as such for biodiesel production due to its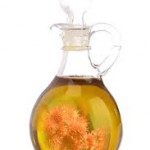 high viscosity.  Hence scientists from Singapore have found an alternative method to produce low viscosity biodiesel from castor oil.
By chemical modification of ricinolein in castor oil and methyl Ricinoleate, new products called ketone-containing glycerides were obtained. These ketone containing triglycerides were used for the production of biodiesel.
The biodiesel obtained by this method was found to have low viscosity.
Thus, vehicles can now run with a fuel which has less viscosity.