Here's an interesting derivative possibility of an antibacterial product from ricinoleic acid, a derivative of castor oil.
Contamination is a big issue in any environment. It affects each and every stage in all the processes we do from manufacturing a product to its maintenance (shelf life). To control contamination, a suitable compound with a high antibacterial activity is to be added in an ongoing process.
A well-known example of compounds with antibacterial activity are naturally occurring phenolic compounds.
Now scientists from India have developed 7 novel ricinoleic acid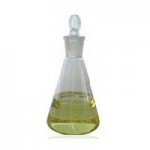 glycosides having antibacterial activity using Koenigs–Knorr glycosylation reaction. On the whole, 28 ricinoleic acid glycosides were developed and their antibacterial activities were analysed. Seven of them were found to show promising wide spectrum antibacterial activity against gram positive bacteria.
Among the 7 compounds, two compounds namely mannopyranosyl- and the arabinofuranosyl derivatives were found to be effective against various non-clinical/clinical, overexpressed/resistant strains of Staphylococcus aureus and other gram positive bacteria such as Bacillus subtilis and Micrococcus luteus. It was found that the presence of sugar and its structure and the methyl ester protection of the carboxylic moiety of ricinoleic acid are responsible for these compounds to be bioactive.
Now industries looking for other potential compounds with antibacterial activity could go for these ricinoleic acid glycosides.
Wish to know more about Ricinoleic Acid – see here. Or other castor derivatives – see here.