Castor seed prices softened by Rs 21 to Rs 4,615 per quintal in futures trading today on trimming of bets by participants taking weak cues from the spot markets on low demand.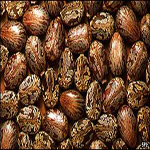 At the National Commodity and Derivatives Exchange, the contract of castor seed for delivery in October was trading lower by Rs 21, or 0.45 per cent, to Rs 4,615 per quintal, clocking an open interest of 42,500 lots.
The delivery for November contract also eased by Rs 20, or 0.42 per cent, to Rs 4,715 per quintal, depicting an open interest of 74,120 lots.