Castor seed prices, which had largely remained bullish last year since the commodity resumed trading at the exchange in January 2017, have been weakening since the beginning of this year. From the current low, market expects some recovery in the coming months due to export demand.
In January 2017, when castor started trading again on the exchanges after one year, prices were around Rs 3,800 per quintal. The opening price of the contract was Rs 3,851 per quintal on National Commodity and Derivatives Exchange and Rs 3,832 per quintal on Multi-Commodity Exchange.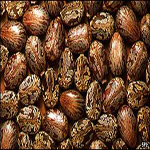 Due to lesser acreage, the production had come down last year. Lower remuneration due to subdued prices in the previous year and good monsoon had made farmers to shift to other crops like groundnut, mustard and soybean. The production came down to 1.06 million tonnes. Production, in fact, has been dropping for the previous 5 years from 2.2 million tonnes in 2011-12.