Leading chemical companies have empowered 1,019 Indian farmers in their journey to create a framework for sustainable castor bean production.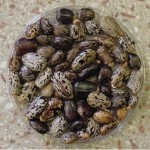 Arkema, a global leader in specialty chemicals and advanced materials; BASF, the world's leading chemical company; Jayant Agro-Organics Ltd., a pioneer in castor oil based chemicals in India, and Solidaridad, an international civil society organization, came together for Project Pragati (Hindi word for progress).
With this first-of-its-kind initiative globally, the companies are developing a sustainable castor framework titled SuCCESS (Sustainable Castor Caring for Environmental & Social Standards).