Scientists from India synthesized a renewable resource based epoxidized castor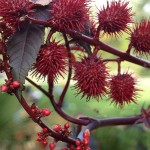 oil (ECO) and used it as a prime material to develop acrylated epoxidized castor oil (AECO) networks. AECO nanocomposites were prepared by sol-gel method using OMMT clay and silane.
The results showed that AECO/1 wt.% OMMT system increases in tensile strength from 28 to 37 MPa and flexural strength from 54 to 63 MPa as compared with the AECO system, respectively.