Scientists performed an experiment to analyze the effect of catalysis pyrolysis of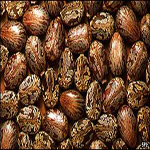 castor seed on the yield of oil. Catalytic pyrolysis was carried out at 400°C for different ratios of catalyst to biomass using zeolite as catalyst.
Results showed that compared to thermal pyrolysis of castor seed, catalytic pyrolysis decreased the yield of oil and that the bio oil contained compounds with carbon chain length in the range of C4-C24 that is similar to most of the fuels used.