Researchers from China performed an experiment to synthesize and characterize waterborne nitrocellulose dispersion that was modified with castor oil. Castor oil modified waterborne nitrocellulose dispersion (CWNC) was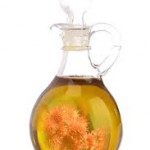 synthesized by self-emulsification and reaction among isophorone diisocyanate (IPDI) trimer, dimethylol propionic acid (DMPA), nitrocellulose (NC) and castor oil.
The characterization of CWNC was carried out with FTIR and thermal gravity analysis (TGA). TGA results showed that CWNC film had better thermal resistance.