Scientists from Nigeria performed an experiment to analyse the effect of period of fermentation on the nutrients of castor oil seeds. Castor oil seed was dehulled, boiled an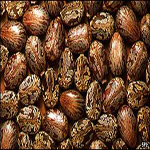 d wrapped in a banana leaf. The wrapped seed was kept in a basket and allowed to ferment for four days. The package was unwrapped daily to remove 250g of fermenting cotyledon and dried at 60°C to terminate the fermentation process.
Results showed that the fermented castor oil seeds exhibited increase in moisture, crude protein, crude fibre, carbohydrate, potassium and zinc. The lysine content also significantly increased on the fourth day.