Ricinoleic acid, derived from castor oil has an anti-inflammatory action following topical application. However ricinoleic acid goes rancid when it is exposed to oxygen.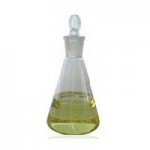 Hence scientists from Egypt performed an experiment to encapsulate ricinoleic acid into ethyl cellulose (EC) electrospun fibres.  Electrospinning parameters of EC were optimized to obtain bead-free fibres.
RA at different concentrations was encapsulated into EC fibres. Release profile was reported and encapsulation was demonstrated via morphological analysis.