Scientists from India performed esterification of furfuryl alcohol and castor oil fatty acid at 3:1 molar ratio, by immobilized Candida antarctica Lipase B in a solvent free system.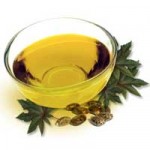 A maximum yield of ester was obtained. Performance of the FA-COFA ester plasticized Ethyl Cellulose (EC) films were evaluated by certain characteristic studies.
Results showed that the furfuryl alcohol-castor oil fatty acid ester with significant plasticizing property at a certain concentration could act as a substitute for traditional plasticizer dibutyl phthalate.