Castor cultivation which had lost interest among farmers since 2012 is now attracting farmers with new farming methods and cropping patterns. Castor cultivation was at its peak during 2010-11 due to high castor seed prices at around Rs. 6200 per quintal. The crop had become the most preferred for the kharif sowing.
But during 2012, as the prices started falling, the castor cultivation decreased and since then it has been decreasing, with prices of castor seed falling to Rs. 3325 – Rs. 3400 per quintal.
To increase castor yield and attract farmers, SEA started a Castor Yield Increase Programme where around 60 farmers and scientists of Dantiwada Agricultural University joined. The main objective was to reduce the use of water, pesticides, fertilizers and cut costs while raising the yield by changing the cropping pattern.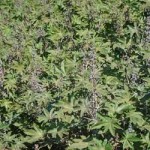 The new cropping pattern has attracted farmers as the castor seed yields have doubled. The Dantiwada Agriculture University has provided GCH 7, a new hybrid variety of castor seeds, free of cost to farmers.
SEA has also planned the pilot project to five districts of Gujarat and Rajasthan by including more farmers.