Scientists from University of Hyderabad, India have found that castor bean plants could help in remediation of areas where soil has been highly polluted with heavy metals due to industrial pollution.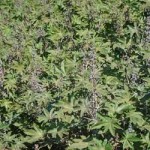 Castor plants growing in these areas absorb toxic heavy metals from soil. Hence, castor bean plants can be grown in such polluted lands and over a period of time the levels of heavy metals can be reduced in the soil.
Research reports stated that when the castor bean plants growing in industrial areas were tested, roots of the plants were seen to contain lead in as high as 19.53 milligrams per gram of the root. Even leaves and stem of the plant were found to be containing lead but in smaller quantities.