Castor seed prices came down by Rs 23 to Rs 4,686 per quintal in futures trading as traders adopted cautious stance and cut down their positions in line with subdued trend at the physical markets.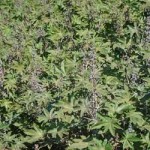 At the National Commodity and Derivative Exchange, castor seed for most-traded delivery in September contracts dropped by Rs 23 of 0.49 per cent to Rs 4,686 per quintal, with an open interest of 72,190 lots.
The delivery for October month contract also fell by Rs 19 or 0.40 per cent to Rs 4,787 per quintal, having an open interest of 27,370 lots.