Castor seed prices enquired lower by Rs 6 to Rs 4,534 per quintal in futures trading today as traders preferred to windup positions, guided by weak physical market.
At the National Commodity and Derivative Exchange counter, castor seed delivery for the November shaded by Rs 6 or 0.13 percent to Rs 4,534 per quintal, in an open interest of 74,790 lots.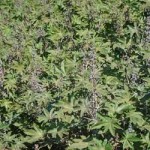 In a similar manner, the delivery for the December off by same margins and percentage to Rs 4,587 per quintal, open interest stood at 42,880 lots.