Castor seed prices went up by Rs 38 to Rs 4,337 per quintal in futures trading as speculators raised bets, tracking upbeat sentiment at the physical markets.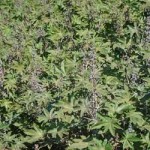 At the National Commodity and Derivative Exchange, castor seed for delivery this month traded higher by Rs 38 or 0.88 per cent to Rs 4,337 per quintal, with an open interest of 9,430 lots.
Castor seed to be delivered in December too gained Rs 28 or 0.64 per cent to Rs 4,389 per quintal, showing an open interest of 79,790 lots.