Castor seed prices rebounded Rs 16 to Rs 4,508 per quintal in futures trade early November, after participants created fresh positions at the existing levels amid a firm trend in the physical market.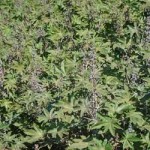 At the National Commodity and Derivative Exchange, castor seed for delivery in December contracts improved by Rs 16 — or 0.36 per cent — to Rs 4,508 per quintal, with an open interest of 53,800 lots.
Similarly, the most-traded delivery in November also went up Rs 14, or 0.32 per cent, to Rs 4,452 per quintal, having an open interest of 62,640 lots.