Castor seed availability is expected to improve this season as the castor crop production has increased by 15%. According to the latest estimates by Solvent Extractors' Association of India, the castor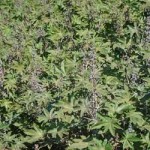 production is likely to increase between 1.29 million tonnes and 1.38 million tonnes.
While the area under castor has been estimated at 1.03 million hectares, the yield may improve marginally to 1,254 kg/hectare.  Castor yield in Gujarat is estimated to be 1,471 kg/hectare and the global castor seed output is estimated at 1.70 million tonnes.