Scientists from China prepared waterborne castor oil -based polyurethane –s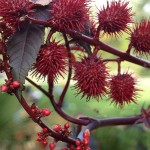 ilica hybrid materials with chemically bonded polymer matrix and silica nanoparticles.  The formation of the cross-linking structures in the polyurethane system was confirmed by FTIR.
The results showed that the nano-silica in the polyurethane matrix improved both hydrophobicity and thermal stability of the resulting hybrid polyurethane films. Thus this process can help in the design of bio-based hydrophobic waterborne polyurethane films with favourable thermal stability and optical transmittance.