Scientists from Japan conducted an experiment to analyze the nature and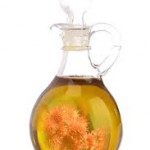 characteristics of polymerizable vesicles produced by using oxyethylene hydrogenated castor oil.  Polymerized vesicles were produced in aqueous solution. Hydrogen NMR spectroscopy was used to investigate the polymerization process using azobis(isobutyronitrile) as an initiator.
Results showed that the polymerized vesicles were resistant to disruption by polyoxyethylene(10) octylphenyl ether. The degree of resistance depends on vesicle concentration and incubation temperature and this dependence is due to the inter-vesicle polymerization.