Scientists from Mexico conducted an experiment to evaluate the seed and oil production, yield and quality of biodiesel produced from eleven wild genotypes of castor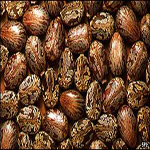 oil plant in Mexico. Seed and oil production was evaluated in experimental plots at field level and the quality of biodiesel produced was also evaluated.
Results showed that the seed production varied between 937.1 kg/ha and 56.3 kg/ha indicating the feasibility to produce castor oil in the north-east region of Mexico. Quality tests conducted for biodiesel showed some potential for use blended with petroleum diesel.