Castor oil in water emulsions, also known as fatliquors are used for lubrication of tanned leather fibres to get softness and improve strength properties. Fatliquoring agents are usually obtained by chemical modification.
Now scientists have performed an experiment using nano-TiO2 as emulsifying agent.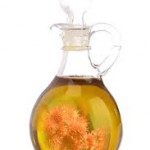 The fatliquoring agent based on castor oil was prepared using nano-TiO2 as emulsifying agent by mechanical mixing. Thus castor oil/nano-TiO2 composite fatliquoring agent (CTF) was obtained via Pickering emulsion method.
Pickering emulsion method is the process of preparing emulsion that is stabilized by solid particles which adsorb onto the interface between the two phases.
Results showed that the addition of nano-TiO2 stabilized the emulsion and the application of emulsion in the leather fatliquoring process of goatskin garment improved the physical and mechanical properties of leather. Also, CTF was biodegradable compared to chemically modified castor oil fatliquoring agent.