Recent study has found the production of medicated soap from castor oil.
Medicated soaps are those used for bathing, and contains additives that helps kill germs and other microorganisms. They can also have other functions like skin toning and age defying effects. Generally all types of soaps are prepared using caustic soda.
Now scientists from Nigeria have performed an experiment to produce medicated soap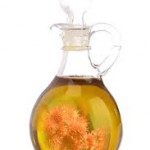 from castor oil extract. Castor oil was extracted via soxhlet extractor and the characterization studies were carried out. It was found that the acid value and saponification value of the oil were between the ranges of values specified by ASTM.
The soap produced gave a pH of 8.9 and the antibacterial activity of the soap on the bacterial isolate Staphylococcus aureus showed a greater inhibition zone, thus concluding that a highly effective soap can be produced from castor oil.