Recent study finds castor oil sourced copolymers for surface coating applications.
Scientists from India have performed the experiment where acrylic polyols comprising castor oil derived hydroxy functional acrylic copolymers were synthesized by co-reacting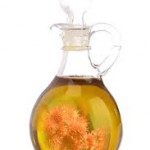 modified hydroxy functional castor oil with a variety of acrylic monomers. Solution polymerization method was followed in the presence of an inhibitor.
The synthesized resins when cured with suitable amino-resin cross-linkers provided tough, glossy and weather resistant coatings.