Renewable resources are gaining special attention as substitutes for petroleum based products. Thus biobased polymers obtained from vegetable oils present a good, green alternative to fossil based polymers in terms of biodegradability and toxicity, thereby allowing their application for high value added and/or biomedical purposes.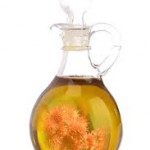 In this study, Acyclic Diene Metathesis (ADMET) and thiol-ene miniemulsion polymerization method was followed to synthesize high molecular weight polymers. In addition to the chemical reactions leading to synthesis of high molecular weight polymers, miniemulsion polymerization method enabled the production of polymeric nanoparticles with unique characteristics and vast commercial interest.
Characteristic studies revealed that the synthesized nanoparticles did not present any cytotoxic effect on murine fibroblast (L929) and human cervical cancer (HeLa) cells and showed high blood biocompatibility.