Jamaican Minister has given a commitment to assist Jamaica Baptist Union (JBU) with lands for its castor bean project.
Currently a property under the Sugar Company of Jamaica (SCJ) Holdings Limited has been made available for use in the project.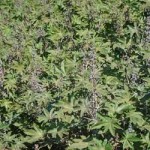 During phase one of the project, 1,000 acres of beans will be farmed and harvested over two 21/2-year cycles. In phase two, the harvested beans will be processed to produce castor oil.
The Jamaican castor oil has the potential to earn between US$80 million and US$100 million on the US market.