Prices of castor seed continue to increase due to lower production and expectation of good export demand for castor oil and meal in the coming months.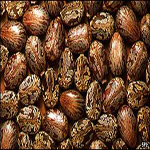 Seed prices have already reached a two-year at NCDEX and physical markets. In the physical markets, seed prices have already risen 21.3 per cent during March itself.
Currently, about 90,000-100,000 bags (each 60 kg) of seed are coming to the markets, mainly in Gujarat and the price of the commodity is Rs 4,830 a quintal.