Castorseed prices marked higher by Rs 41 to Rs 4,622 per quintal in futures trading after participants accumulated positions amid a firm trend at the physical markets.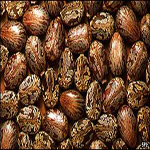 At The National Commodity and Derivative Exchange, castorseed delivery for January contract climbed up by Rs 41 or 1.05 per cent to Rs 4,622 per quintal, with an open interest of 36,250 lots.
Also, the most-active contract to be delivered in current month advanced by Rs 39 or 0.86 per cent to Rs 4,566 per quintal, persisting an open interest in 55,580 lots.