Recent study shows production of wood adhesives from castor oil.
Commonly used wood adhesives were anima (hide) glue, urea-formaldehyde resin adhesives, resorcinol-formaldehyde, phenol-formaldehyde, polyurethane,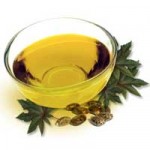 etc.
Now scientists from Iran have conducted an experiment to produce polyester polyols, which is an important compound in polymeric polyurethane adhesives, from castor oil. The polyester polyols were synthesized condensation polymerization of different dicarboxylic acids with castor oil.
Characterization studies were also carried out to determine the shear strength value in various conditions such as cold water, hot water, acid and alkali solutions.