Super-tough materials derived from inedible plants are lightweight, renewable and strong enough to use in vehicles
A new polymer blend made from castor beans is stronger and lighter than conventional structural materials, and researchers say it could improve the safety and fuel efficiency of cars.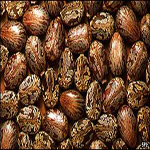 Castor beans are notorious for containing the poison ricin, but it's possible to turn them into polyamide 11, a thermoplastic from the nylon family of polymers. Now, scientists from Japan have developed a super-strong polymer blend by mixing polyamide 11 with the common household plastic polypropylene, that could replace many of the plastics we use today.