Castor seed prices drifted down by Rs 15 to Rs 4,727 per quintal in futures trading as participants cut down their positions in line with muted demand in spot markets.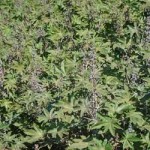 At the National Commodity and Derivative Exchange platform, castor seed for delivery in November contracts slipped by Rs 15 or 0.32 per cent to Rs 4,727 per quintal, with an open interest of 31,860 lots.
The most-traded delivery in October contracts also eased by Rs 13 or 0.28 per cent to Rs 4,637 per quintal, in an open interest of 86,640 lots.