Researchers performed an experiment where transesterification of castor oil was done using trimethylchlorosilane as acidic mediator. Two one-pot reactions were observed.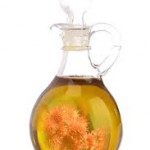 One was the transesterification of triglycerides relevant to biodiesel production and the other was the chlorination of glycerol with the formation of α-monochlorohydrin.
Results showed that the two products biodiesel and α-monochlorohydrin were obtained in high quantities and that the synthesis represents a highly sustainable production of industrial commodities from available biomass.