Castor oil has been in use since long and still finds increasing applications in various industries. The prominent applications of castor oil include cosmetics, soaps, textiles, medicines and more. It has anti-bacterial, anti-fungal, and moisturizing properties. It can be used orally as well as topically.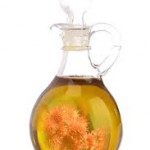 Here are some interesting benefits of castor oil:
Castor oil is best for skin. It speeds up the healing process and leaves the skin soft and delicate.
It helps diminishing puffiness and tiredness from eyes.
It is the best remedy for split ends in the hair.
It can treat joint pain, knee pain and also other pain caused by inflammation.