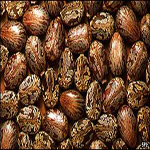 Highlights
The new HCH-6 seeds have been developed by scientists at UAHS, Shivammoga
Yield in the case of traditional varieties said to be declining by the year owing to disease
Farm trial of new varieties have been completed and the hybrid castor seeds could yield up to 30% higher output
They are awaiting official approval for release
Scientists at the University of Agricultural and Horticultural Sciences (UAHS), Shivamogga (Karnataka), have developed disease-resistant varieties of castor seeds.
Castor seeds are widely cultivated in dry regions of Chitradurga, Davangere and Tumakuru districts. However, the yield of castor seed has been waning owing to fusarium wilt and white fly infection.
Scientists at zonal agricultural and horticultural research station of the university at Hiriyur have developed a disease-resistant and high-yield variety of castor seed named HCH (Hybrid Castor Hiriyur)-6, which is a fusion of DPC-9 and TMV-6 varieties. If cultivated as a solo crop, the yield of HCH-6 variety is said to be around 18 quintals a hectare of land, while it was around 13-14 quintals a ha in other existing varieties.
(A quintal equals 100 Kg)
As part of the farm trial, Lakshmanappa, a farmer from Holalkere in Chitradurga district, who had cultivated HCH-6 variety of castor in his land, said that the yield had increased by around 22 per cent and the plants were free from wilt infection.P. Narayanaswamy, Director of Research, UAHS, Shivamogga, said that KPR-1 paddy and HCH-6 castor seeds would be released after getting approval from the State-level Variety Release Committee and the Central Sub-committee on Crop Standards, Notification and Release of Varieties. The seeds of both the varieties would be released by June, 2016, he said.
If indeed the castor seed yields could be increased to 1.8 tons/hectare, this could be a big boost to farmers, as the country's average is hovering only about 1.3-1.4 T/hectare as mentioned earlier. And with the castor seeds seeing an overall upswing in prices in the past few years and hovering at about Rs 40/Kg (though 2015 saw slightly lower prices than 2014), such increases in yields could result in many more farmers taking up castor cultivation.
Source: The Hindu